New A-League season set to begin during Christmas holidays
The next A-League season is set to begin in the peak of the summer holiday season, with clubs working towards a proposed December 27 kick-off.
Football Federation Australia, A-League clubs and the players' union are making plans for a condensed 26-round regular season that will begin after Christmas and finish with a grand final played before June 30. While the draw is yet to be finalised, senior sources involved in discussions suggest the proposed format will likely include a number of midweek matches to fit 26 rounds plus finals into just six months.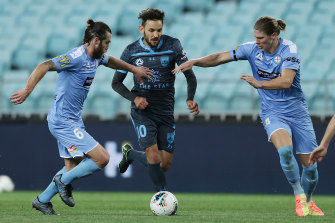 A-League season set to begin on December 27. CREDIT:GETTY
Club sources suggested the need for a shortened season relates to the competition's broadcast and the rescheduled Tokyo Olympics which are set to begin in July 2021.
A-League clubs wanted the season to be pushed back until early in the new year in hope of beginning with fewer regulations around crowd limits, border closures and other restrictions relating to the COVID-19 pandemic. However, the competition's broadcast agreement with Foxtel requires the season to start in December and finish in July.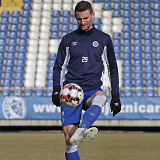 Australian defender Aleksandar Jovanovic has joined Macarthur FC.
However, clubs are now eager to finish a month earlier to avoid the finals series clashing with the Tokyo Games, which could see a significant player drain due to international commitments as well as a lack of public interest should the grand final go head-to-head with the Olympics. The Olyroos are competing in their first Games since 2008 and the core of the core of the current squad are based in the A-League.
Meanwhile, Macarthur FC's inaugural defence will be one comprised of players new to the A-League with the Bulls set to unveil Australian journeyman, Aleksandar Jovanovic, as their newest addition.
Club sources suggest the 31-year-old former K-League and Chinese Super League has signed with the Campbelltown club for the start of their inaugural season, where he will join Socceroo centre back Aleksandar Susnjar and goalkeeper Adam Federici in their first A-League season.
Since leaving National Premier League side Parramatta FC in 2007, Jovanovic has spent his entire career abroad, playing in Serbia, China, South Korea, Thailand and Bosnia.
The towering centre-back had been linked with a Socceroos' call-up but is yet to play international football either for Australia or his ancestral country of Serbia. Jovanovic will be the 12th signing announced by the club.